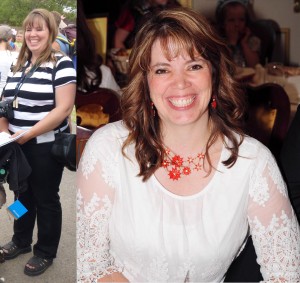 Time for introductions! I'm Tiffany Nelson and I am the new marketing director for Nutrasmart.  One of the reasons that I am ideal for this position is because I have used these products, had success with these products and love them!
I have tried many different weight loss programs and products. I've tried the Adkins diet, Protein Power, Fuhrman and many others! They all work initially but, they do not work for me long term. I can't make myself eat like that for a long period of time. I don't like salad unless it has a lot of other things besides just vegetables added. I don't love a huge variety of vegetables. I love meat and potatoes. If I go to a buffet I like to load up on starchy foods. I also love sugar!!! I absolutely believe in having nutritious foods in my diet but, I can't cut out all of the foods that I love.
I have even run marathons in order to control my weight. While I do enjoy running, I am a busy mom and I don't have the time to spend the hours and hours exercising. I'm not a fast runner and my body becomes very efficient at running long slow miles. Running marathons could not be the solution to my weight control.
The My Support Shake has helped me lose 40 lbs.* It is easy for me to use because it tastes great, fills me up for at least 4 hours and helps me feel satisfied. I have tried many other diet shakes and none of them fill me up for as long or taste as good as this shake. I am planning to lose another 30-40 lbs.* and I believe that the My Support Products will help me achieve that goal. I believe that it is achievable because what I am doing is so easy!
I have begun my transformation and I feel great. Are you ready for your own transformation? Join me! I am going to share what I am doing on Facebook, Instagram, Pinterest, here on this website and through newsletters. We are going to have contests, share recipes and give ideas on how people can have their own transformation. We will also share other success stories to help keep you motivated. All you need to do is try our shake and use the coupon code XXBHZ3TLHD6S to get 10% off your order! You will not regret it.
If you would like to follow my progress and see what I am doing, like us on Facebook, follow us on Instagram, follow our Pinterest Board, sign up for our newsletter or do all of the above! We will be giving out free products each month to those who join us on these platforms. I can't wait to get know you and watch your transformation!
*Individual results will vary when using these products.  These statements have not been evaluated by the FDA.
---