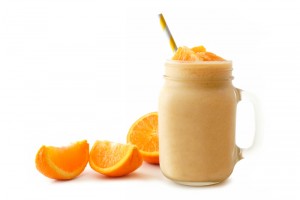 One of the great things about the My Support Shake is that it is low calorie enough that I can add other ingredients to it and still make a nutritious low calorie meal replacement.   I have already written about my Get Your Greens Smoothie here.  I also sometimes add bananas or other ingredients to make other great tasting smoothies or shakes.   One of my favorite recipes is the Orange Julius.   I loved making myself an Orange Julius as a treat when I was a kid.  I also enjoy getting an Orange Julius in the mall.  This shake reminds me of being a kid and almost makes me feel guilty!  But, when I replace my meals this Orange Julius recipe it not only satisfies my sweet tooth, it also gives me 50% of my daily requirement of 22 Vitamins and minerals and it gives me over 200% of my daily requirement of Vitamin C.    It will also give you 16g of protein and 5g of Fiber.   Best of all it keeps me full for hours! You get all of these benefits at only 215 calories.
Orange Julius Recipe
1.5 Scoop Rich Vanilla Bean My Support Shake
1 Cup Orange Juice
1/2 t Vanilla Extract
8 cubes Ice
Put all ingredients in the blender and  mix about 45 seconds.
You might wonder why this recipe doesn't include any skim milk, almond milk or yogurt as many meal replacement shake recipes do.   Our shake doesn't need it.  Our shake whips up creamy and delicious all on its own!  Give it a try.
---